Enhancement is a new game mechanic added to Hello Hero on January 6, 2014.
What is Enhancement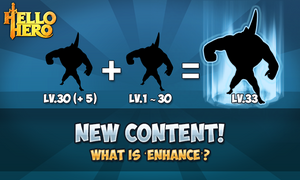 "Enhance" is a feature where the Master, Epic, Unique and Legendary grade heroes maximum level can be increased to 33. To enhance you will need;
The Enhance feature in HELLO HERO now makes a heroes' max. level to 35, 40, 45, and 50
You also don't have to upgrade a hero to +5 to enhance it. (as of the year 2015).
TO ENHANCE, YOU WILL BE NEEDING:
One (1) mastered hero. (Level 30 hero)
One identical hero. (a same hero, any level will do)
Go and click the "Heroes" button
Click the hero that you want to enhance. (That hero must meet the first 2 requirements mentioned above)
After clicking the hero, click the button "Train"
Click "Enhance"
Find the identical hero that you need for the enhancement process.
DONE!! Your hero's maximum level is now increased by 5
After enhancing a hero, you can enhance it again! (By 4 times for 7★ and 6★ heroes, 2 times for 5★ and 4★ heroes, and you can only enhance a 3★ hero once)
TAKE NOTE: AN ENHANCED HERO REQUIRES A LOT OF ENEMIES AS IT LEVELS UP TO IT MAXIMUM LEVEL.
More Info
Enhanced heroes are designated in field of battle as being surrounded by a ring of glowing, yellow light for 1st enhancement, green light for 2nd enhancement, bright, red light for 3rd enhancement, and a bright, golden light for 4th enhancement).